Details
The Nixon upholstered dining chair is a practical and comfortable option for your home. The chair features a 360-degree swivel base and curved design that supports the body while you're seated. It also includes a removable seat cushion in a neutral color palette with a black-metal base. Whether you're using it in the dining room or office, the Nixon upholstered dining chair is sure to be a stylish and functional addition to your space.
Materials
Synthetic leather
Padded shell
Metal base
Care
Wipe clean with a soft, damp cloth. Do not use harsh abrasives or household cleaners as they may damage the product.
Dimensions
Width:
21.5"
Height:
31.3"
Depth:
23.8"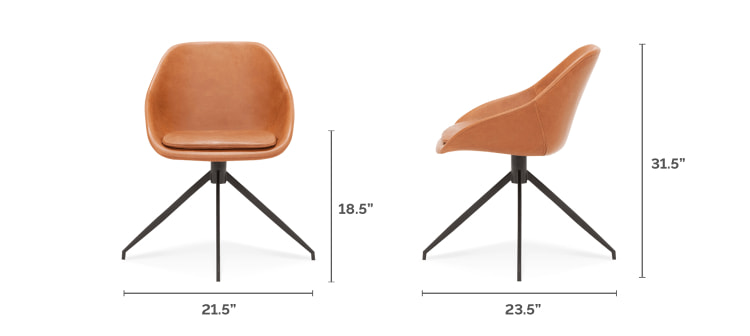 Sell-back
Sell fully paid items back to us and get a Pivot credit worth up to 50% of the paid amount.
Exchange or return anytime
Upsize, downsize, or easily refresh your space.Free exchanges and returns after 6 monthly payments. Sell-back fully paid items for credit.
Low-cost repairs
Our technology makes repairs quick and easy, done right in your home for a low cost. For peace of mind, add PivotCare to cap repair fees at $49 each.
Sustainably made in Canada
We're not just sustainably designed. Our circular technology recovers 90% of raw materials, reducing waste, logistic cost and keeps operations local.
30 Day Happiness Guarantee
Enjoy an item in your home. Take your time to decide if it is right for you. Exchange any item for a flat $20 in the first 30 days. Conditions.